Experienced for a century, FCL specializes in high quality French oak. The FCL barrels are from the finest staves, classified with care and dried between 24 and 36 months in the open air. The experience of its coopers and craftsmen, translated from generation to generation is an undeniable asset.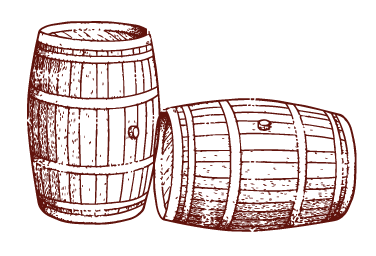 The cooperage offers a wide range of barrels made from our staves.
The supply of high quality staves from the best French forests: center of France, Allier, the Vosges, Jupilles, Tronçais. Throughout the year, our buyers roam the French forests in search of the most beautiful oak that will be used for the manufacture of barrels for the breeding of wines and spirits.
Chips and staves come from the same staves (one hundred percent French oak) for optimal organoleptic quality, a harmonious and controlled tannic contribution. Constant investment in
research and development of the toasts allows the range to evolve according to market expectations and consumption habits.
For many generations, FCL has been able to sustain its cooper knowledge. The human aspect, the authenticity and the tradition have taken an important part in its evolution. For several years now, the family business has been seeing a steady increase in sales thanks to its export-oriented strategy. Barrel aging is an essential step in optimizing the organoleptic quality of wines. The choice of wood and the adaptation of the practices of our cooperage contribute to the perfection of a technique adapted to each type of wine: The choice of the raw material, the choice of the grain, the capacity, the toasting and the finish.
QUALITY
The quality of the organisation and the implementation of control systems enable us to optimise our products and to meet the expectations of our customers.
Traceability
each lot of antler is identified by a code from its origin, from the forest from which the log is derived.
This identification allows us to carry out increased traceability and recognition of all edges.